Commercial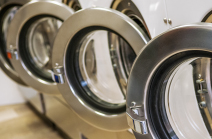 If your business needs a commercial laundry or dry cleaning service, Laundry on the Wheels is here to service you!
Here are just a few types of businesses that we service:
Health clubs;
Gyms and fitness centers;
Salons and spas;
Colleges and campuses';
Corporate uniforms;
Chiropractor offices;
Massage palors;
And many more!
Yes. We will pick-up and deliver to your office, warehouse, or any other business. Please email us at laundryonthewheels@gmail.com or call us at (610) 507-0106 to find out more.